INTERNATIONAL SYMPOSIUM | EAST-WEST ARTISTIC AND TECHNOLOGICAL CONTAMINATIONS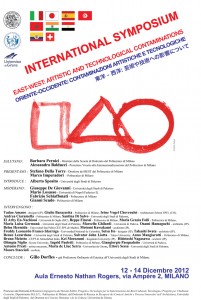 ORIENTE-OCCIDENTE | CONTAMINAZIONI ARTISTICHE E TECNOLOGICHE
POLITECNICO DI MILANO
AULA E. N. ROGERS
Via Ampere, 2 Milano
12 – 14 Dicembre 2012
CLICCA QUI per scaricare il programma
Historic scenescapes are often Eurocentric, with their fulcrum in the Mediterranean basin: from the Roman Empire to that of Charlemagne, from that dreamt by Frederick II Hohenstaufen to the intercontinental realm of Charles V. Much tension is present today in the Middle East and cannot but demand our attention; but globalisation requires a differing approach and deeper analysis. We cannot forget the growing weight and role, in quality too, that the peoples of the East will have, in China, Mongolia, India and Japan. We need to follow a terrestrial parallel, visiting some experiences developed in an equivalent climatic environment. The Symposium researches some diversities, possible contaminations, some particolar developments in the worlds of Architecture, Painting, Sculpture, Industrial Design and Technology, for a confrontation to lead to reciprocal under standing, to recognition of value in cultural heritage and to creative collaboration between
differing operators from differing Countries.
I quadri storici presentano scenari eurocentrici che hanno avuto il loro fulcro nel bacino del Mare Mediterraneo: dall'Impero Romano a quello
di Carlo Magno, da quello sognato da Federico II di Svevia a quello intercontinentale di Carlo V. Molte tensioni di oggi avvengono in area
medio-orientale e captano la nostra attenzione; ma la globalizzazione impone approcci diversi e analisi più ampie. Così non sono da trascurare il peso e il ruolo crescente, anche in termini qualitativi, che avranno sempre più le Nazioni orientali come la Cina, la Mongolia,
l'India e il Giappone. Da qui la necessità di percorrere un parallelo terrestre, visitando alcune esperienze maturate in un equivalente ambiente climatico. Il Symposium ricerca alcune diversità, possibili contaminazioni ed elaborazioni particolari nel mondo dell'Architettura, della
Pittura, della Scultura, dell'Industrial Design e della Tecnica, per un confronto finalizzato alla reciproca comprensione, alla messa in valore dei patrimoni culturali e alla collaborazione creativa fra operatori differenti dei diversi Paesi.
PROGRAMMA
WEDNESDAY/MERCOLEDÌ 12 DICEMBRE 2012
h. 14.30 Salutano:
BARBARA PERNICI, Direttore della Scuola
di Dottorato, Politecnico di Milano
ALESSANDRO BALDUCCI, Prorettore
Vicario all'Internazionalizzazione, Politecnico di Milano
Presentano:
STEFANO DELLA TORRE, Direttore del Dipartimento BEST.
MARCO IMPERADORI, Delegato Far East, Politecnico di Milano
Introduce:
ALBERTO SPOSITO, Università di Palermo
FIRST SESSION/PRIMA SESSIONE
Modera GIANNI SCUDO, Politecnico di Milano
GIANGIORGIO PASQUALOTTO, Università degli Studi di Padova:
Estetica del Vuoto, Estetica del Pieno
MARCELLO GHILARDI, Università degli Studi di Padova: Arte e Corpo nel Pensiero giapponese
EL ARBY EN-NACHIOUI, Università di Oujda, Marocco (video-conferenza): Contaminazioni antiche e contemporanee
ETTORE SESSA, Università di Palermo (video-conferenza): Variabili architettoniche orientaliste
OLIMPIA NIGLIO, Visiting Professor Kyoto University: Cambiamenti nell'architettura giapponese tra Otto-Novecento: dialogo fra Oriente e Occidente (sostituisce Elena Amodeo)
MARIA DE LLUC SERRA, Universitat de Girona (video-conferenza): Relations between East and West: the impact of Oriental art in the
Museums of Catalonia in the Nineteenth-century
SANTINA DI SALVO, Università di Palermo (video-conferenza): Dal Mediterraneo nuove strategie
Chiusura della Prima Sessione
THURSDAY/GIOVEDI 13 DICEMBRE 2012
h.9.30 Modera FABRIZIO SCHIAFFONATI, Politecnico di Milano
TAKASHI IWATA, team Kenzo Tange (JP): Vincoli nel progetto di Architettura
KEI MOROZUMI, Kogakuin University (JP, video-conferenza): Natura nell'architettura
OSAMI HAMAGUCHI, architetto (JP, videoconferenza): L'architettura fra due culture
MOTOMI KAWAKAMI, architetto (JP, videoconferenza): Ibrido "Luce e Ombra"
BRUNO MELOTTO, visiting lecturer al CEPT Ahmedabad con INGRID PAOLETTI, delegato relazioni con l'India, Politecnico di Milano: Esperienze dall'India
SALVATOR JOHN LIOTTA, Tokyo University (video-conferenza): Patterns e Layering: cultura spaziale giapponese, natura e architettura
ANDREA CIARAMELLA, Politecnico di Milano: International Real Estate Challenge: dall'Europa ai mercati emergenti
Chiusura della Seconda Sessione
LUNCH
h. 14.30 Modera GIUSEPPE DE GIOVANNI, Università di Palermo
RENZO LECARDANE, Università di Palermo (video-conferenza): The Orient Express in Japan World's Fair: Contaminations, Innovation and Technologies
MARIA GRAZIA FOLLI, Politecnico di Milano: Architettura e Città in Egitto tra nuovo e antico
GIULIO BARAZZETTA, Politecnico di Milano: Italia-Spagna: Orientamenti della Culturaarchitettonica
BELEN HERMIDA, Universitad San Pablo CEU EPS de Madrid: Riflessi della cultura orientale tra Italia e Spagna
FREDDY L. F. IDARRÁGA, Universidad National de Colombia: L'insegnamento tra l'Italia e la Colombia
TADAO AMANO, designer (JP): Creatività diversa o identica?
MARIA LUISA GERMANÀ, Università di Palermo (video-conferenza): Contaminazioni tecnologiche e variabile tempo
Chiusura della Terza Sessione
FRIDAY/VENERDI 14 DICEMBRE 2012
h.9.30 Modera MARIO LOSASSO, Università degli Studi di Napoli Federico II
IRÈNE VOGEL CHEVROULET, Ricercatrice alla EPFL: Japan, irreducibles Differences?
SETSU ITO, designer (JP): East west Designer
ANTONIO PRESTI, artista mecenate, Fiumara d'Arte Castel di Tusa: La Politica della Bellezza
MAURO STACCIOLI, scultore: Interrogare l'Esperienza
HIDETOSHI NAGASAWA, scultore (JP): La Barca dell'Invisibile
BEPPE FINESSI, Politecnico di Milano: Angelo Mangiarotti, uno sguardo ad est
ANNA MANGIAROTTI, Politecnico di Milano: Prospettive di ricerca
Conclude GILLO DORFLES, già Ordinario di Estetica all'Università degli Studi di Milano